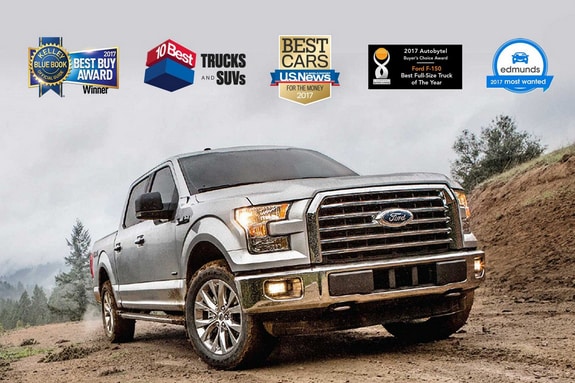 The 2017 Ford F-150 has been awarded the title of Top Green Vehicle for Pickups by the 2017 AAA Green Car Guide. The XLT SuperCrew model was recognized for its best-in-class fuel economy. It adds this recognition to its appearance on the Greener Choice List from the American Council for an Energy Efficient Economy, on which the F-150 is the only full-size pickup truck to appear.
The F-150 is equipped with a 2.7L EcoBoost V6 engine. It achieves 19 mpg city and 24 mpg highway according to EPA estimates. This makes it the top-tier for fuel efficiency. Ford continues to innovate in the area of eco-friendliness and fuel efficiency, expanding it beyond smaller vehicles into its larger SUVs and trucks.
"Many drivers need the flexibility of a larger vehicle, but still want to make a green choice," said Megan McKernan of the Automobile Club of Southern California's Automotive Research Center. Even though gas prices are lower than five years ago, drivers still seek out fuel-efficient vehicles and according to the AAA it remains a major consideration when making a car purchase.
Throughout the long, nearly 70-year history that the F-150 has existed, Ford has been a leader in making sturdy, high-performance trucks. Ford prides itself in the capability, handling and power of its many full-size pickup options. The automaker does not believe that fuel efficiency should be sacrificed in favor of power and performance. That is what Ford has achieved with the F-150.
Looking to the future, Ford wishes to remain at the top-of-the-class with the most capable pickup trucks, in both performance and fuel economy. Continuous innovation will ensure that the F-150 continues to be one of the best-selling vehicles in the United States.
You can check out the 2017 Ford F-150 and other new Ford vehicles at Grapevine Ford. Our dealership near Dallas has a wide selection of fuel-efficient vehicles, both large and small.