What's New for the 2019 Ford F-350?
The 2019 Ford F-350 comes equipped with Ford TorqShift SelectShift and six-speed automatic transmission that can easily handle the demand of the turbo diesel and gas engines on this truck. The SelectShift also happens to include Progressive Range Select plus a Full Manual. There have been changes to the tow/haul portion of the truck. Now the chances are minimized the gear getting hung up either going uphill or downhill. This prevents the truck from gaining too much speed and reducing the pressure that needs to be applied on the brakes.
2019 F-350 Trims and Features
There are several new and improved key features on the 2019 F-350. First up is some changes that were made to Sync. Sync basics now lets you make a voice call, listen to music, voice control and choose different apps to view all with your hands never leaving the wheel and ensuring safe driving skills. Bluetooth audio is now really catching up quick in the software department, as the audio lets you wirelessly control the entertainment and voice commands. Sync can also read your text messages out to you and there's the option of having 911 Assist on in you F-350 that way you will get the assistance that you will need all from your truck. The optional navigation system is compatible with Apple CarPlay and Android Auto, which makes it easy to answer all those calls and texts, and stream all of your favorite music all without taking your hands off of the wheel.
For your comfort and convenience, there are several new and improved trims on the F-350. The available options include cruise control, new dual map lights, audio controls on the steering wheel, and power adjustable brake and gas pedals that help you feel as comfortable as possible for driving the F-350.
2019 Ford F-350 Horsepower
As far as the horsepower for the F-350 is concerned, there is a 6.2 L SOHC 2-valve Flex Fuel engine. They put these on both the F-250 and the 350 as well. The transmission is a TorqShift Heavy Duty 6-speed SelectShift Automatic. This truck has all of the power to get you where you need to go quickly and also has optional options which include, a 6.7L Power Stroke and a v8 Turbo Diesel engine. You are also allowed to purchase an upgraded diesel engine-exhaust braking. The F-350 is a really powerful diesel truck for all your everyday towing and hauling needs.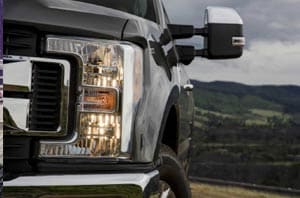 Ford F-350 Safety
Ford is known for their awesome safety options on every one of their vehicles on the market. Airbags in the front have gotten upgraded, as they are now available with a deactivation switch and they have a new option called Safety Canopy, which incorporates the roll-fold side curtain airbags. There is an alarm that goes off if you have not placed your seatbelt on after about five minutes of being in the truck. There are child tethers in the back seat of the F-350, which is another added safety feature to keep ensuring that our babies are safe. The Seat Belts are color coordinated for helping with height adjustment. The Security of the F-350 is really thorough as well. There is a remote keyless entry that is offered with this truck. There is also a perimeter anti-theft alarm as well. With SecuriLock, the anti-theft ignition is available on the 2019 Ford F-350. With MyKey you are able to use the push to start button instead of just using your keys, as long as the key fob is on your person.
The 2019 Ford F-350, can haul, is luxurious, and an all around perfect truck. Come in for a test Drive to Grapevine Ford to take a test drive, today!