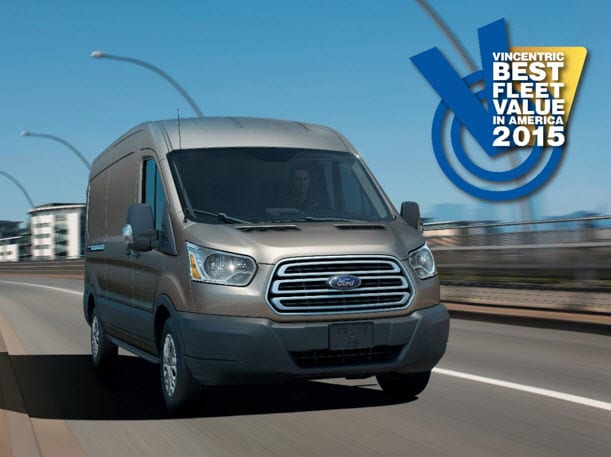 Ford has won more Vincentric Best Fleet Value in America awards than any other automaker! The 2015 Ford Transit led the way, with many of its models winning in a multitude of categories, but several other Fords won as well!
This is the sixth time that the Taurus has taken first place among large sedans, the third time the Explorer has topped the large crossover category and the second time the Expedition XL has been crowned in the large SUV segment!
The biggest victor was the 2015 Transit, winning in five out of six of Vincentric's full-size van categories. Transit took honors in the ½-Ton Cargo and Passenger Van segments, the 1-Ton Car and Passenger Van segments, and the ¾-Ton Cargo van segment. See winners listed in detail below!
Besides this, the Transit Connect XLT short-wheelbase claimed the Best Fleet Value title in the Mini Passenger Commercial Van segment. Following the Transit Connect's recent ALG Best Resale Value award win, this honor once again affirms that it's an incredible value for business owners in the market for small to midsize fleet vans.
Vincentric's Best Fleet Value awards evaluate costs for repairs, financing, insurance, fuel, fees and taxes, and other factors that affect a vehicle's lifecycle costs. Winners were selected because they have the lowest lifecycle costs in 20 different mileage and ownership scenarios, like 60 months of ownership/30,000 miles driven per year or 24 months of ownership/10,000 miles driven annually for example.