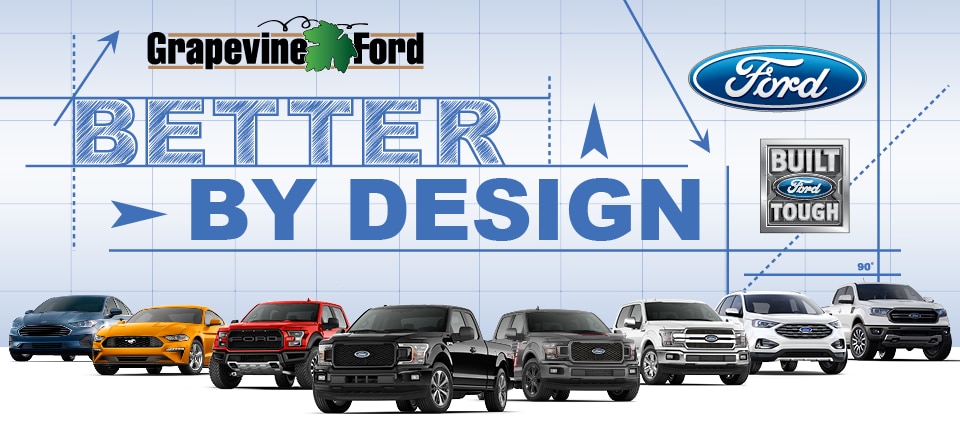 1
No Games, No Gimmicks - True Hassle-Free Car Buying
Grapevine Ford's car buying process is quick, simple and hassle-free. From providing no-haggle pricing on all inventory to offering a time-saving online finance application and vehicle appraisal tool, we do everything we can to create a streamlined and stress-free experience for our customers.
 2
We've grown our store for you!
Our new state-of-the-art facility is over 80,000 square feet! The new Parts Department includes 15,000 square feet of inventory and our NEW Quick Lane Building has 17 separate lanes to get you in and out FAST!
 3
#1 Mustang Dealer Among DFW Area Ford Dealers in 2019
We understand the wants and desires of sports car lovers. As the #1 Mustang Dealer in the state of Texas in 2019, we have proven our ability to offer our performance customers a one-of-a-kind experience. Ask for our Mustang specialist when you call!
 4
LOVE IT OR LEAVE IT 3-Day Return Policy
We stand by our products, but we also stand by our people, which is why we offer a "Love It or Leave It" return policy for your peace of mind. If you're not happy with your purchase, our "Love It or Leave It" promise ensures that you can bring your vehicle back within 72 hours - no questions asked.
 5
Now Serving Hearty Breakfasts and Lunches at The Mustang Cafe!
Bagel Sandwiches
Grilled Paninis
Fresh Cold Sandwiches (featuring Boar's Head meats)
Made-to-Order Salads
Smoothies - Espressos
Soda/soft drinks
Delicious desserts
Open Monday through Sunday 8:00am-5:00pm
 6
The Grapevine Guarantee - we will match or beat any price!
Car customers are looking for the best prices and we are committed to offering the best prices around. Ask about our "Grapevine Price Guarantee." We will match or beat any price on our new car inventory.
 7
Over 100 years of combined service experience
Home to the very best service technicians the industry has to offer. Our team consists of technicians and advisors that specialize in a wide range of technologies, from fixing diesel engines to technologies like the SYNC 3 system. Our team has over 100 years of combined experience and is standing by and ready to help you.
 8
#1 Certified Pre-Owned Store & Top Car Dealer Among DFW Area Ford Dealers in 2019
Grapevine Ford was not only recognized as the #1 Ford Dealer in the State of Texas in 2019, but is also currently the #1 Certified Pre-Owned store in Texas! In addition to offering a large volume of popular models like the new Fusion, Focus and Mustang, we also trade for and purchase the best quality used Fords within 500 miles of our store. Every one of our CPO units goes through a rigorous 172-point inspection and comes with complimentary 24-hour roadside assistance.
 9
F-Series Trucks are the best-selling trucks in Grapevine
Grapevine, Texas, sits in the heart of truck territory and the F-Series lineup sits at the top of its class! We have one of the best selections of Ford F-150-350s in the area - come choose yours today!
10
President's Award Winner
Grapevine Ford is committed to making your car buying experience outstanding. Our team was awarded the prestigious "President's Award" in 2019, which recognizes our commitment to customer service.