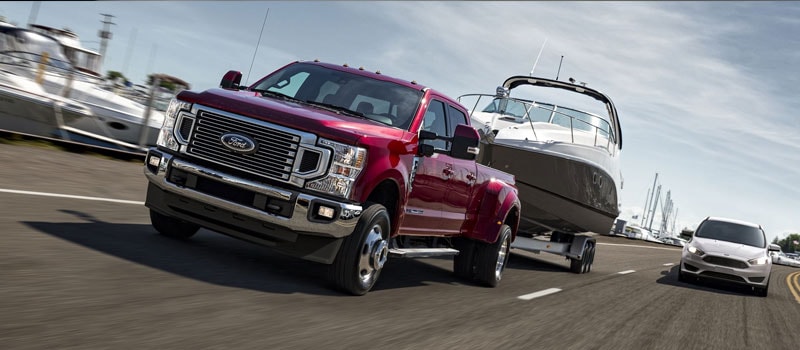 Ford is Innovating Its New V8 Engine for Power
As Grapevine's Ford source, we are always proud when the company releases innovation-related news. For 2020, Ford recently announced the addition of a new, gas-powered engine to its product line that torque enthusiasts adore.
New Ford Engine Details
The American auto giant built an eight-cylinder model with 7.3-liter displacement. Nobody makes a bigger, mass-market, gas-powered engine. It produces a gas-only class best 430 horsepower at 5,500 revolutions, and it emits 475 torque foot-pounds, which is also a best-in-class output. Ford used overhead valve construction to maximize the engine's force.
What Does the New V8 Do?
In its most-audacious setup, Ford pairs its new V8 with its all-new 10-speed TorqShift transmission. This automatic unit lets you haul substantial loads. You will proudly use this engine's force at your work site and in your active life. Carry machinery with it. Pull a small yacht. Go places other vehicles cannot take you.
Ford Models with Its New V8
So far, Ford has announced this engine's availability through its F-Series truck line. To acquire its beefiest output, choose this new engine in a Super Duty F-250 or Super Duty F-350. You can also acquire a scaled-back, 350-horsepower version of Ford's new V8 in several Medium Duty F-Series models and in the stripped-chassis F-53 and F-59, which are ideal for aftermarket upgrades for commercial purposes.
This New Ford Engine's Outlook
If you adore gas-powered force, look for future announcements about Ford's new V8. The automaker may use it in an outrageously quick car in the near future.
To try a model with this impressive, new engine, book a friendly Ford test drive with us.