Learn More About the New Mustang From Grapevine Ford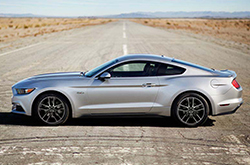 Celebrating its 50th anniversary this year, the all-new 2015 Ford Mustang arrives with a grand collection of fresh features. The muscle car's fastback and convertible models have made their way onto the market, sporting a short rear deck, sculpted hood, wider stance and an updated shark-bite front fascia. Additionally, the car's engines have been upgraded and it also features a brand-new 2.3L EcoBoost. A stunning assortment of technologies have been integrated into the cabin as well, enhancing the in-car experience for drivers and passengers. If you want to learn more about the pony car and its offerings, read our 2015 Ford Mustang review for information.
For 2015, the Mustang debuts with a host of fresh technologies that increase the pony car's appeal. The all-new model comes equipped with a Shaker Pro audio system, Intelligent Access with push-button start, SYNC, MyKey and available Track Apps. These features cater to drivers, allowing them to access an array of functions that boost the driving experience and stay better connected while on the go. In addition to these new features, the 2015 Ford Mustang in Grapevine also comes with a group of safety components, such as blind spot detection, adaptive cruise control and cross-traffic alert, which provide additional security for occupants at all times.
The 2015 Ford Mustang in Grapevine's V-6 and V-8 engines have been upgraded this year to improve performance. Coming into the new model year, the 3.7L V-6 produces 300 horsepower and 280 lb.-ft. of torque, while the 5.0L V-8 delivers 435 horsepower and 400 lb.-ft. of torque. Aside from these variants, a 2.3L EcoBoost turbocharged engine has been added to the roster for 2015. It outputs 310 horsepower and 320 lb.-ft. of torque, providing exceptional performance and fuel economy throughout the lineup.
To find out more details about the Mustang and its features, keep browsing our 2015 Ford Mustang review.�