Ford Dealership in Grapevine Reviews the 2016 Edge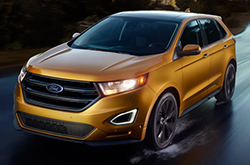 Go further in a new 2016 Ford Edge. Offering an exceptional EPA-estimated 30 mpg highway with the base engine and a smartly designed cabin with plenty of cargo and passenger space, it's designed for adventuring.
Locals can find the 2016 Ford Edge in Grapevine, Texas now and the latest edition includes a couple of headline-making updates that complement last year's full redesign. To start off, the SUV's still offered in SE, SEL, Titanium and Sport trim levels, but now on upper trims an all-new SYNC 3 system is included, while base models get basic SYNC functions.
The new infotainment system, which supplants MyFord Touch, has been getting lots of praise in 2016 Ford Edge reviews. Critics say it'll accommodate drivers with its new-and-improved menu design, touchscreen controls (including swiping and pinching), and enhanced natural voice recognition. Plus, it gets automatic Wi-Fi updates when a compatible Bluetooth-enabled phone is paired with the system. For iPhone users, Siri integration is also a bonus.
In addition to infotainment, Ford Edge buyers in the Dallas area will notice improvements in steering, which is a result of the integration of new adaptive steering. Do a little research and you'll see that 2016 Ford Edge reviews have positive things to say about this system, as well. With adaptive steering, the SUV feels more agile and maneuvers more easily in tight spaces, like parking lots for example.
Optimized steering response augments performance, which is also underpinned by changes from last year, such as the suspension's retuning and revisions to the turbocharged 2.0-liter four-cylinder, which was made more powerful and efficient. Last year, the turbo four also became the new base powerplant for the lineup and it remains the entry-level engine today, but you can also opt for an available 3.5-liter V6 or pick up a 2.7-liter V6-equipped Edge Sport if you want more power.
Mosey on down to Grapevine Ford if you'd like to take a ride in this award-winning SUV and get a feel for its new adaptive steering and SYNC 3 systems. For anyone in need of a midsize crossover with style, features and practicality, purchasing a 2016 Ford Edge in Grapevine is a smart choice.