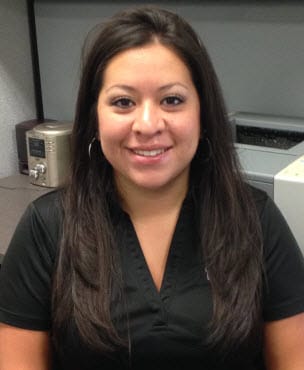 Along with being dedicated to her family, Grapevine Ford Title Administrator, Amada Ramirez, has also shown a level of dedication to her work that we value at our dealership. This month we'd like to place a spotlight on Amada for all of the hard work she does here at Grapevine Ford.
Check out our Employee Spotlight interview with Amada below!
Where did you start in the auto industry and what roles have you taken to get where you are today?
I started in the automotive industry when I was 20 years old and am going on 11 years working in car dealerships. I originally started out being a "courier," then got trained to do billing. Then I was trained to do new car titles. I then moved on to doing accounts payable and got promoted to do used car title work. I got pregnant and moved to North Richardson Hills and that is when I got the opportunity to transfer here to Grapevine Ford doing new, used, fleet and courtesy delivery vehicle title work.
Please describe your current role at Grapevine Ford Lincoln.
I am the New/Used Title Administrator. I title all of the new vehicles, pre-owned vehicles, fleet vehicles and courtesy delivery vehicles.
What are some of your most outstanding accomplishments?
My biggest accomplishment in life has to be my daughter Addisyn. She is definitely what I live and breathe for and just being able to have the opportunity to be her mother is the best thing god has given me.
What do you enjoy most about working at Grapevine Ford Lincoln?
I love my coworkers! My office manager and my controller are the best people anyone could ever work for.
Tell us one interesting fact that not everyone knows about you or additional information you would like to let our readers know about you.
I am really a caring person and people I meet seem to feel comfortable to confide in me about personal issues. I love to give advice and I also love to listen. I am definitely a big observer.
Now it's time for our fun five!
What is your favorite movie? Dirty Dancing
What is your favorite color? Blue
What is your favorite vacation destination? Anywhere by a beach
What is your favorite food? Mexican and Italian
What kind of music do you listen to? Pop, Country, Hip Hop, R&B