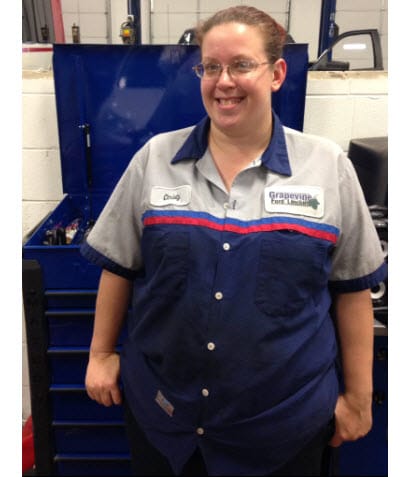 Christy Carter was identified as a rising star at Lincoln College of Technology (Lincoln Tech) and joined Grapevine Ford Lincoln as an intern on Dec. 20, 2013. After completing her internship and graduating from Lincoln Tech, she quickly proved herself as a Quick Lane Technician. She was then promoted to Team Lead and has recently been promoted again into the main shop, where she'll be working on transmissions.
We're very proud of Christy's success in our service department and feel she deserves to be put on center stage, so we interviewed her for an Employee Spotlight! See what she had to say below.
What are some of your hobbies?
I love spending time with family and friends.
Please tell us about your family.
I have two wonderful children: My son Trevor is 7 and my daughter Morgan is 8, and about a year ago I married my high school sweetheart Rob.
Please describe your start in the industry and the roles you've taken to get where you are today.
I graduated in Feb. 2014 from Lincoln College of Technology and I'm currently working toward my Ford Certifications in Electrical and Transmissions.
I started working on cars for fun in high school. Finally, I decided to go back to school and get some formal training. While in school I worked diligently to keep my grades and attendance in excellent standing, and because of that I was chosen as an intern student and began working in the Quick Lube department at Grapevine Ford.
Why do you believe customers should have their cars serviced at Grapevine Ford and what do you enjoy most about working at the dealership?
The technicians and service advisors here at Grapevine Ford treat you like family. They care about you and your car. I enjoy the people here. We are truly a family.

Christy has fast become a highly valued member of our team and we look forward to seeing her continue to grow. We'd also like to congratulate Christy once again on her recent promotion!