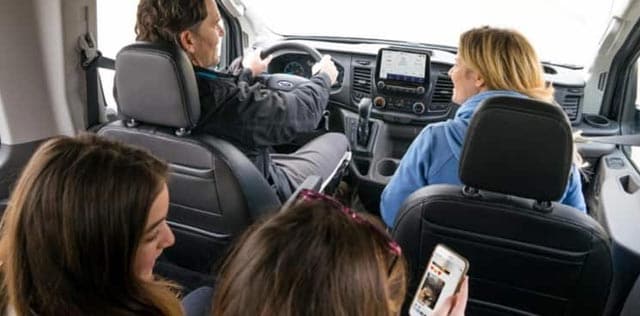 The Beginning of The End For Backseat Drivers
Word through the grapevine is that Ford Co-Pilot360 could be the beginning of the end for those backseat drivers that have been annoying drivers since the dawn of the automobile. We've all driven with one at some point. They sit in the backseat warning us to "watch out" before we hit something to our left, right, or center. Maybe they believe there's an approaching car that's going to hit us from another lane, and they're just being good-hearted, but the fact is drivers almost universally find the backseat driver to be a plague of sorts. We all know that backseat drivers mean well, but they cause distraction without meaning to. They're almost as dangerous as the things they warn drivers about.
Ford Co-Pilot360, The Only Backseat Driver That You Need
Thanks to driver-assist technologies like Ford Co-Pilot360, it's Ford's hope that the backseat driver will eventually become extinct. Instead, they'll turn into a backseat passenger, pleasantly engaged in one of Ford's entertainment technologies (maybe a DVD movie). Ford's interesting study on backseat drivers and how driver-assist technologies might eliminate them and turn them into just plain passengers was carried out with Dr.Jess Carbino. What Ford and Dr. Carino discovered is that driver-assist technologies help to calm the nerves of anxious backseat drivers. Not only that, but other technologies that encourage connectivity in the vehicle also lead to more quiet backseat passengers. When they're engaged with their phone or a DVD movie, they tend to talk less. The result is that they also distract the driverless. Co-Pilot360 is perhaps the only "backseat driver" anyone will need again, helping drivers to monitor lanes, blind spots, and in some cases, the technology can even apply brakes or accelerate as needed, correcting driver error so that backseat drivers don't need to. It looks like they may be out of a job, and every driver in the world is going to be collectively thankful for that.
Our Dealership is Always Available
If you'd like to learn more about Ford's impressive system of driver-assist technologies, we'd love to answer any questions you have. Our dealership is always available to field important questions about Ford vehicles and technologies. To discuss Ford Co-Pilot360 with us, or any Ford related technology, just stop by our dealership today or give us a call. One of our helpful sales team will tell you more about how Co-Pilot360 can help you get rid of those nervous backseat drivers by giving you a competent, highly alert series of safety technologies that help to recognize and correct your driving errors. Just call us today.