The 2012 Ford F-150 from Grapevine Ford is the archetype of committed automotive craftsmanship built to fit the needs of Texas Ford aficionados. Grapevine Ford is fired up to present the 4-door 2012 Ford F-150 Pickup Truck . As your Grapevine Ford dealer, we hope you find our 2012 Ford F-150 reviews and research materials beneficial in finding the features, specifications and information you've been on the lookout for. View Grapevine Ford's lineup of 2012 Ford F-150 Pickup Truck s.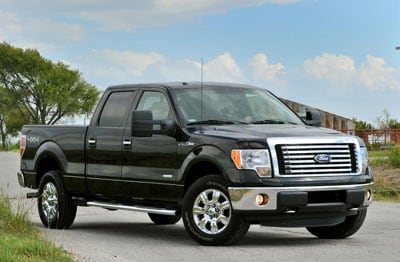 Grapevine Ford presents the 2012 Ford F-150 Pickup Truck
Shoppers find that when they compare the 2012 Ford F-150 to other makes like the Chevrolet Silverado, Toyota Tundra, Nissan Titan and Dodge Ram , the Ford F-150 shines as the most fun to drive. Check out our Quick List chart below to see why!
The 2012 Ford F-150 has an starting MSRP of $22,990
The 2012 Ford F-150 gets 17 city / 23 highway MPG
The 2012 Ford F-150 goes from 0-60 MPH in 5.9 seconds
The 2012 Ford F-150 features 41.4 inches of legroom up front and 33.4 inches in back
The 2012 Ford F-150 features 41 inches of headroom in front and 39.7 inches in back
The 2012 Ford F-150 is 250.4 inches long, 79.2 inches wide and is 76.7 inches tall
The 2012 Ford F-150 weighs 5,777 pounds and has a turning radius of 26.2 feet
We know you'll enjoy the Ford F-150 - visit Grapevine Ford in Grapevine today!
The best-selling F-Series truck in America is back this year in the form of the 2012 Ford F-150. Last year, Ford revamped the F-150's engine for greater power and fuel efficiency, making this durable vehicle the most sought after truck on the market. It's no wonder that the F-150 has beat out the Chevrolet Silverado, Toyota Tundra, Nissan Titan and Dodge Ram year after year as the best all-around American performance pickup truck. And it is just one terrific option in the 2012 Ford F-Series. This group of tough-as-nails commercial-grade vehicles also features Super Duty options like the 2012 Ford F-250, F-350, F-450 and F-550. Contact Grapevine Ford for more information about these heavy-duty haulers. We have one of the best selections of new 2012 Ford F-150 trucks in the Grapevine area, so stop by today and start driving the ruggedly independent F-150. Also feel free to check out our collection of other new and used Ford F-Series trucks!
Over half a century ago, the Ford Motor Company released its first post-war band of trucks - the F-Series. The F-Series was designed with Marmon-Herrington all wheel drive and featured optional chrome and two horns. From these humble beginnings grew the F-150 Series, an amazingly tough and dependable truck that debuted in 1975. With the introduction of the F-150, the F-Series became the best-selling trucks in the U.S. by 1976. Since then, the body styles and engines may have changed, but the success of the Ford F-150 has remained the same. Grapevine Ford offers a great variety of used Ford F-150 trucks and Ford Fleet Vehicles with special prices and financing options available.
The 2012 Ford F-150 is hot and ready to go at your local Grapevine Ford dealership, and with three body styles and 11 trim levels, you have the ability to pick the Ford that is right for you. The F-150 features an exciting line of powerful engines. Starting with the 3.7-liter V6, Ford ups the bar for engine torque and overall strength. The twin-turbo 3.5-liter V6 EcoBoost is next in line, followed by the 5.0- and 6.2-liter V8, all with more power and capability than their predecessors. These new engines are paired with an electronic 6-speed automatic transmission with overdrive, making the Ford work truck at Grapevine Ford the toughest in the world.
At Grapevine Ford, you'll find the 2012 F-150 that fits your needs with Regular Cab, SuperCab or SuperCrew body styles. Most of the 11 trim levels come with all three cab styles, as well as Flexible Fuel engine options. These popular work trucks feature loads of amenities including: air conditioning, a display center, a flat load floor in the SuperCrew version, a power point front, front and rear cup holders, 17-inch steel wheels and more. Additionally, an optional 4-GB Ford Work Solutions Computer is available on all trims. This fully functioning unit allows you to carry work from the office to the jobsite with a touch of a button. Ask Grapevine Ford about a Ford Work Solutions Computer in your truck, and start saving time and money today! If technological accessories get your blood pumping, then you'll also enjoy other features like Ford's voice-activated SYNC communications system with Bluetooth and USB accessible systems, available on select models. When it comes to off-road trucking, the F-150 is the perfect machine. A top choice for adventurous Grapevine Ford shoppers is the 2012 Ford F-150 SVT Raptor. This powerhouse truck contains a jaw-dropping 6.2-liter V8 engine with large, off-road tires and a rear locking differential, a unique off-road inspired suspension and optional graphics packages for the exterior and the interior.
While all Ford F-250 Super Duty trucks received a full redesign last year, Ford's engineers still managed to pump even more power and towing ability into these no-nonsense heavy-duty pickups for the new model year. The 2012 Ford F-250 from Grapevine Ford is brawny and muscular, yet quick and nimble on its all-terrain wheels. It's available list of interior amenities and high-end gadgetry have also made it a top seller in the Super Duty segment. Various features on the 2012 F-250 include: a 40/20/40-split front bench, full power accessories, keyless entry, cruise control, a trip computer, dual-zone automatic climate control, heated and ventilated seats and lockable storage. Grapevine Ford truck shoppers can choose between four trim levels and three body style options to configure the perfect F-250 work truck for their needs. Stop by Grapevine Ford today to learn more about all of the 2012 Ford F-250's trim levels and their unique feature sets. Every F-250 truck comes standard with a 6.2-liter gasoline V8 that generates 385 horsepower and 405 pound-feet of torque. A 6.7-liter turbodiesel V8 with 400 horsepower and 800 pound-feet of torque is optional. With this much power towing duties are a breeze in the 2012 Ford F-250. When properly equipped, it can tow 14,000 pounds, and when setup for fifth-wheel towing this number spikes to 16,700 pounds.
If this isn't enough muscle for your needs, consider the new 2012 Ford F-350 or F-450 Super Duty trucks. With an impressive set of engines, several body style options and many well-equipped trims, any Grapevine Ford shopper in need of a heavy-duty truck will surely be pleased when they check out Grapevine Ford's selection. The 2012 F-350 can tow over 22,700 pounds when properly equipped, while the 2012 F-450 has a class-leading fifth-wheel towing capacity of 24,500 pounds. Ford's Super Duty trucks are in a class of their own, with the F-350 and F-450 being the only non-commercial HD trucks that can tow over 20,000 pounds. The new Ford F-350 is outfitted with a 385-horsepower 6.2-liter V8 with 405 pound-feet of torque. Grapevine truck shoppers who require even more power than this can opt for the F-450 which features a 6.7-liter Power Stroke turbodiesel V8 engine. The Power Stroke is a specially designed engine that offers ground-trembling power, while delivering up to 20 percent better fuel economy than its predecessor. It is also the most powerful diesel pickup engine that money can buy, with 400 horsepower and a jaw-dropping 800 pound-feet of torque. Whether you are searching for a lavish, feature-laden hauler, a down-and-dirty heavy-duty truck or a superbly powerful vehicle with hulk-like strength, the F-Series will surpass your expectations.
The 2012 Ford F-Series is built for the all-American worker in Grapevine. Stop by Grapevine Ford to find your built-tough identity, and hit the open road. Check out a new or used Ford F-150 at Grapevine Ford today, along with our entire selection of heavy-duty 2012 Ford F-Series trucks! The top-selling Ford F-150 is an American icon that has been built Ford tough for over 30 years. The F-150 is back and tougher than ever; and that's why it is not just a pickup truck. It's a Ford.
Driving a Ford F-150 from Grapevine Ford makes Texas driving easy, safe and enjoyable - all at the same time! Here's why:
Grapevine Ford has a massive assortment of 2012 Ford F-150 Pickup Truck s with standard Ford safety features like anti-lock brakes, traction control, driver airbags, passenger airbags, side airbags and more, making the 2012 F-150 an NHTSA and IIHS favorite. In addition to these safety features, the 2012 Ford F-150 can easily seat up to 6 passengers. Trunk space with Ford is never a worry; the F-150 can hold up to 55.4 cubic feet of your luggage, ensuring that your next drive is hassle-free. To top it all off, the 2012 Ford F-150 includes an extraordinary list of comfort and convenience features like powered windows, mirrors, doors and locks, climate control, AC and optional hands-free phone and navigation systems. Take a test drive at Grapevine Ford today and experience the Ford F-150 for yourself.
The Ford manufacturer's warranty covers the F-150 for manufacturing defects and has a 3 Years / 36,000 miles Ford warranty. Ford has worked for years to minimize its environmental impact; as a result, the F-150's carbon footprint is minimal. Not surprisingly, with all of the F-150's advantages, this reliable Ford Pickup Truck retains a high percentage of its value at 3 years and 36,000 miles, which makes the Ford F-150 a great used buy! When seeking a safe, stylish and economical Pickup Truck , Grapevine Ford aficionados should head to Grapevine Ford, located at 701 E State Highway 114 in Grapevine, TX
Ford F-150 service information for Grapevine
Ford F-150 lessees and owners in Grapevine have recognized that Grapevine Ford at 701 E State Highway 114 in Grapevine is the very best choice for F-150 warranty work, regular maintenance, inspections and mechanical repairs. At Grapevine Ford, Certified Ford Technicians trained in the very latest corrective and diagnostic techniques work for one thing - your complete satisfaction. Whether it's time for your Ford to have an oil change, tire rotation, or simply undergo F-150 Scheduled Maintenance, Grapevine Ford is your first choice. Our Certified Ford Technicians also complete specialty jobs and repairs. Grapevine Ford is the smartest choice in Grapevine for quick, amicable and professional Ford Service of all kinds.
If you'd like to make an appointment to have your F-150 serviced, click the link or just give us a call. We'll see you soon!