The 2012 Ford Fiesta from Grapevine Ford is the symbol of committed automotive craftsmanship built to fit the needs of Texas Ford aficionados. Grapevine Ford is delighted to present the 4-door 2012 Ford Fiesta Sedan. As your Grapevine Ford dealer, we hope you find our 2012 Ford Fiesta reviews and research materials valuable in finding the features, specifications and information you've been looking for. View Grapevine Ford's lineup of 2012 Ford Fiesta Sedans.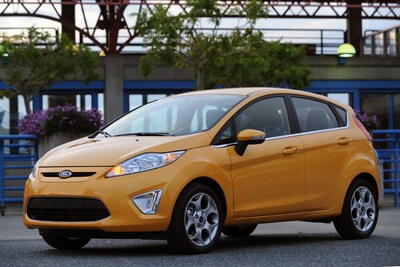 Grapevine Ford presents the 2012 Ford Fiesta Sedan
Consumers find that when they compare the 2012 Ford Fiesta to other makes like the Honda Fit, Nissan Versa, and Toyota Yaris , the Ford Fiesta shines as the most fun to drive. Look at our Quick List information below to see why!
The 2012 Ford Fiesta has an starting MSRP of $13,200
The 2012 Ford Fiesta gets 29 city / 37 highway MPG
The 2012 Ford Fiesta goes from 0-60 MPH in 9 seconds
The 2012 Ford Fiesta features 42.2 inches of legroom up front and 31.2 inches in back
The 2012 Ford Fiesta features 39.1 inches of headroom in front and 37.2 inches in back
The 2012 Ford Fiesta is 160.1 inches long, 66.8 inches wide and is 58 inches tall
The 2012 Ford Fiesta weighs 2,537 pounds and has a turning radius of 17.2 feet
We know you'll be fond of the Ford Fiesta - visit Grapevine Ford in Grapevine today!
The red hot 2012 Ford Fiesta delivers high marks in performance and personality while maintaining excellent fuel economy for Ford drivers in Grapevine. After last year's introduction to the Fiesta, Ford reviewers are excited about new features for 2012 like blind spot mirrors and new two-toned leather seating in the SEL and SES Fiesta hatchback trims. When compared with the Honda Fit, Nissan Versa, and Toyota Yaris, the Ford Fiesta's progressive design and superior personality set it apart as a truly exceptional car. And although the 2012 Ford Fiesta comes in a small package, it's a pretty big deal. Visit Grapevine Ford and check out Ford's revamped 2012 Fiesta today.
The Ford Fiesta is a vehicle over 30 years in the making, continuing to change and evolve to meet the needs of new generations of motorists. The very first Fiesta launched in 1976 with front wheel drive, a compact body and a Valencia engine. The Fiesta quickly became a wildly successful small car. In fact, by early January of 1979, the Fiesta had sold one million units in Europe. In 1995, the Fiesta underwent a major interior makeover, receiving a new engine, suspension and chassis. The newest improvements came with the Mark 6 generation of Fiestas, which featured nothing of the original design of the '76 model - besides its compact size. The redesigned sixth generation hit the scene in 2002 with new elements under the hood and a sleeker, more modern body style. If you're interested in a used Ford Fiesta in Grapevine, contact Grapevine Ford and we'll help you find one that fits your budget.
The Ford Fiesta is available in 5 gorgeous trim levels for the 2012 model year. Stop into Grapevine Ford to test drive an S, SE, SE Hatch, SEL, and SES Hatch and find out what everyone is talking about.
Ford is proud to announce that the Fiesta was awarded a 2011 Insurance Institute for Highway Safety (IIHS) "Top Safety Pick." Ford Fiesta review after review agree on the fact that this amazing compact sedan is loaded with some of the top safety features on the market, including Ford's Personal Safety System, which includes 7 standard airbags, ABS and a safety cage made of boron steel. In addition to the FPSS, the 2012 Fiesta at Grapevine Ford features the AdvanceTrac with the Roll Stability Control system. AdvanceTrac is the industry's only electronic stability control system that uses two gyroscopic sensors to monitor both yaw rate and roll rate. This allows AdvanceTrac with RSC to help you maintain control whenever it detects wheelslip, understeer, oversteer, or roll motion. Curve Control will automatically slow the vehicle down if it senses that the vehicle is going too fast for a particular curve, giving you greater control and stability.
All of the 2012 Fiestas at Grapevine Ford come standard with a 1.6 liter Duratec Ti-VCT 14 engine. This sporty little engine gives the Fiesta quick sprinting capabilities and allows the vehicle to go the distance, making each trip in your Fiesta all the more fun. The 2012 Ford Fiesta also comes standard with a 5-speed manual transmission. All 5 trim levels offer an optional PowerShift 6-speed automatic transmission, which after our Ford Fiesta review seemed to be the best option due to its smooth gear transitions.
The fun to drive 2012 Ford Fiesta S is the perfect sedan for anyone seeking an affordable small car in Grapevine. With an MSRP of $13,200, how could you go wrong? Grapevine Ford offers the S with features like: AM/FM 4-speaker stereo system with auxiliary input jack, EasyFuel capless fuel filler, color-molded instrument panel, door trim and center stack, and the Securilock passive anti-theft ignition system.
The expressive 2012 Fiesta SE at Grapevine Ford highlights unique cloth bucket seats, metallic trim on the instrument panel registers, door handles, center stack, and shifter bezel for the automatic version only. The Fiesta is available in rich colors like lime squeeze, yellow blaze, and red candy. The SE also features powered windows and doors, as well as an AM/FM radio with a CD player and MP3 capability.
Fiesta HB trim levels are especially nice for the simple reason that they give you the ease and accessibility of a larger vehicle, only in a compact-size car! The Fiesta Hatchback SE at Grapevine Ford carries most of the amenities of the SE, but features a rear decklid spoiler and a rear windshield wiper.
Drivers of the Ford Fiesta in Grapevine will love the new Fiesta SEL trim level. This sedan features Ford's award-winning SYNC in-car connectivity system. SYNC allows you to easily operate the most popular MP3 players and Bluetooth-enabled phones with simple voice commands. SYNC's Health Report allows you to create a personalized online report of your vehicle's diagnostics. To top it off, SYNC also includes traffic directions and information, making your next trip easier, and more importantly, safer.
The Ford Fiesta SEL improves upon the S and SE by adding: ambient lighting, LED driving lamps with chrome bezels, leather seating or two-toned leather seating, body-colored powered heated side view mirrors, a blind spot mirror system, SIRIUS Satellite Radio, and 16-inch premium paint wheels.
For a top of the line hatchback, Grapevine Ford features the SES Hatch. The SES comes equipped with the amenities of the SEL, only in a hatchback form. The SES also features a rear wiper blade to keep your rear hatchback window clear in poor weather conditions.
The 2012 Ford Fiesta ST will be coming soon to Grapevine Ford. This variant of the Fiesta will feature a 3-door Hatchback configuration, a special sport-tuned suspension and is expected to deliver 180-plus horsepower! The already sporty Fiesta is about to get even more athletic with the ST trim level - visit us often to check on the delivery dates for our first shipment of the Fiesta ST.
Cruising in a Ford Fiesta from Grapevine Ford makes TX driving comfy, safe and exciting - all at the same time! Here are the reasons why:
Grapevine Ford has a huge stock of 2012 Ford Fiesta Sedans with standard Ford safety features like anti-lock brakes, traction control, driver airbags, passenger airbags, side airbags and more, making the 2012 Fiesta an NHTSA and IIHS favorite. In addition to these safety features, the 2012 Ford Fiesta can capably seat up to 5 passengers. Trunk space with Ford is never a worry; the Fiesta can hold up to 12.8 cubic feet of your belongings, ensuring that your next outing is hassle-free. To top it all off, the 2012 Ford Fiesta includes an astounding list of comfort and convenience extras like powered windows, mirrors, doors and locks, climate control, AC and optional hands-free phone and navigation systems. Take a test drive at Grapevine Ford today and experience the Ford Fiesta for yourself.
The Ford manufacturer's warranty covers the Fiesta for manufacturing defects and has a 3 Years / 36,000 miles Ford warranty. Ford has worked for years to minimize its environmental impact; as a result, the Fiesta's carbon footprint is minimal. Not surprisingly, with all of the Fiesta's advantages, this remarkable Ford Sedan retains a high percentage of its value at 3 years and 36,000 miles, which makes the Ford Fiesta a great used buy! When seeking a safe, stylish and economical Sedan, Grapevine Ford aficionados should head to Grapevine Ford, located at 701 E State Highway 114 in Grapevine, TX
Ford Fiesta service information for Grapevine
Ford Fiesta lessees and owners in Grapevine have learned that Grapevine Ford at 701 E State Highway 114 in Grapevine is the very best choice for Fiesta warranty work, regular maintenance, inspections and mechanical repairs. At Grapevine Ford, Certified Ford Technicians trained in the very latest corrective and diagnostic techniques work for one thing - your approval. Whether it's time for your Ford to have an oil change, air conditioning repair, or simply undergo Fiesta Scheduled Maintenance, Grapevine Ford is your first choice. Our Certified Ford Techs also complete specialty jobs and repairs. Grapevine Ford is the smartest choice in Grapevine for fast, courteous and professional Ford Service of all kinds.
If you'd like to make an appointment to have your Fiesta serviced, click the link or just give us a call. We're looking forward to hearing from you!