Take a Look Dallas Ford Shoppers - the E-150 has Arrived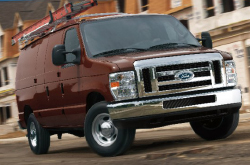 The longstanding Ford E-Series has assisted the everyday working man since it first hit the market in the early '60s. Throughout the years, the lineup has been modified to keep up with the ever-changing demands of the modern shopper, but it has always stayed true to its towing roots. The E-Series, designed for both passenger and cargo transportation, maintains it key components for 2014 such as optimal towing capacity, substantial seating and enhanced technology features. Read on below for an overview of the 2014 Ford E-Series in Dallas, then scroll down for a complete breakdown of its specifications.

Strong and powerful, the 2014 E-Series can handle any workload, sporting a best-in-class towing capacity of up to 10,000 pounds. Buyers can choose from seven different model variations to suit their specific needs: E-150, E-250, E-350, Wagon, Cargo Van, Extended and Cutaway. Each model is backed by either a 4.6L V-8, 5.4L V-8 or a 6.8L V-10, providing a grand total of 305 horsepower and 420 lb.-ft. of torque. If you're looking to take on heavy duty cargo loads, the E-350 is your best option, equipped with maximum towing capacity and 15-passenger seating in the Super Duty Extended edition. Drivers in the market for extra cargo space can opt for the available eight-passenger seating - optional in E-350 Wagons only.
Inside, the E-Series is outfitted with the Crew Chief telematics system, allowing fleet managers receive up-to-date diagnostics in order to achieve optimum efficiency and vehicle usage. The program complements Ford's very own smartphone-capable infotainment system, SYNC, which gives drivers exclusive access to the van's high-end entertainment functions. Notable features praised by numerous 2014 Ford E-Series reviews include hands-free calling, audible text messaging, 911 Assist and Bluetooth connectivity.