About the Ford F-150 in Dallas-Ft. Worth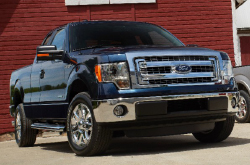 If you're in the market for a capable work truck, why not chose the best-selling full-size pickup in the United States. The Ford F-150's award-winning combination of utility, torque and fuel economy will enable you to tackle the toughest jobs with ease and efficiency. Plus, with hundreds of unique configurations available, including new-for-2014 package, trim and powertrain options, Dallas Ford F-150 shoppers can customize the truck in a variety of ways. View the rest of our 2014 Ford F-150 review to learn about exciting additions that have been made to the lineup this year. Then visit Grapevine Ford for a test drive!
The Raptor has long been known for its high-performance off-road prowess and now with a new SVT Raptor Special Edition it offers exclusive design upgrades in addition to its unmatched off-road capability. With unique box-side graphics, special interior styling accents and a new Ruby Red Metallic paint coat, the Raptor Special Edition's aesthetic enhancements add another dimension to a truck known for its great performance abilities and best-in-class V-8 horsepower and torque.

Also this year, the F-150 debuts an all-new model dubbed the Tremor and a new compressed natural gas (CNG) prepped engine. As the world's first-ever EcoBoost-equipped sport truck, the Tremor addresses the needs of buyers who want the performance abilities of a V-8 with the fuel economy of a V-6. For those who desire a clean-burning CNG-powered truck, Ford is now the only automaker that offers an available compressed natural gas half-ton pickup. When the F-150's 3.7-liter V-6 is equipped with the CNG engine package it can produce over 750 miles on a single tank of gas, depending on the selected tank size.

You can find the 2014 Ford F-150 for sale in Grapevine, Texas in these and several other models when you visit our dealership off East State Highway. Additional trim levels include the XL, STX, XLT, FX2, Lariat, FX4, King Ranch, Platinum and Limited. Several engines, body styles and other configuration options are also available.

Our 2014 Ford F-150 review continues below. Scroll down to see additional vehicle specs and video of the truck.