About the Ford Taurus in Dallas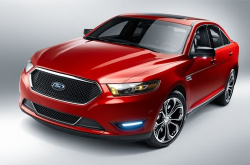 Receiving a complete facelift in 2013, the Ford Taurus appears more refined and classy, setting a new tone for what buyers expect from the long-running sedan. Impressive fuel economy and advanced technology make up the Taurus' highlights, but a few minor upgrades have been made to its paint options and safety features for the new year. Read on the learn more about 2014 Ford Taurus in Dallas, then scroll down for additional information on its new features.

Aimed at displaying its updated exterior styling in the most colorful fashion, the 2014 Ford Taurus integrates two new shades into its paint palate: Dark Side Metallic and Sunset Metallic. The additions join a distinct selection of eight color options, specifically created to enhance the sedan's sharp lines, chrome accents and wide, trapezoid-inspired grille. A step up from the car's previous look, many 2014 Ford Taurus reviews are saying the design is much "sportier," which buyers seem to be drawn to. The cutting-edge exterior aesthetic is matched by three new standard interior features on the Taurus Limited, including push-button start, power tilt/telescoping steering wheel and heated/cooled front seating.

An IIHS Top Safety Pick for 2013, the Ford Taurus maintains exceptional safety standards, offering a state-of-the-art Lane-Keeping System for 2014. Available on both the Taurus Limited and SHO, the new feature uses electric power-assisted steering to keep drivers in the right lane. Audio and visual signals also work to notify drivers when crossing into another lane without a turn signal. The system is backed by adaptive cruise control, Tire Pressure Monitoring System, Blind Sport Information System, Advance Trac stability control, first-row/side seat airbags and Curve Control, which slows down vehicle speed when entering corners too fast.