About Ford Reviews From Grapevine Ford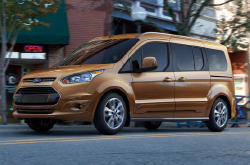 The ever-growing commercial vehicle market is expected to quadruple in sales by 2017, and Ford, North America's best-selling commercial vehicle nameplate, plans to be one of the reasons for its stellar increase. The 2014 Ford Transit and Transit Connect cement the brand's contributions with their top-of-the-line upgrades, including the brand-new Transit Connect Wagon, multiple model and configuration options, and fuel efficient powertrains. Discover more about the 2014 Ford Transit in Dallas below, then read on for additional details on its specifications.

With the ability to tow up to 2,000 pounds and maintain a car-like driving experience, the Transit Connect Wagon is an ideal choice for buyers interested in purchasing a small-sized van with versatility. Available in two wheel-bases, the wagon can fit either five or seven passengers comfortably, and features foldable second- and third-row benches draped in leather or cloth seating. A 2.5L DOHC four-cylinder engine and 1.6L EcoBoost four-cylinder power the van, while adaptive cruise control, AdvanceTrac stability control and Blind Spot Information System take care of its safety needs.

Optimized to satisfy buyers with varying tastes, the Transit comes in van, wagon, chassis cab and cutaway variations, as well as two wheelbases, three lengths and three different roof heights. Those in need of little cargo space can take advantage of the 56-inch height option, whereas shoppers searching for additional space can choose the 81-inch option. If that's not appealing, the van also offers between 256 and 550 cubic feet of cargo volume, which can be accessed through two cargo doors located on the rear.
Keeping to their eco-friendly standards, Ford has outfitted the Transit with a fuel efficient 3.7L V-6 engine, a 3.5L EcoBoost V-6, admired by many 2014 Ford Transit reviews, and a 3.2L PowerStroke Turbo Diesel, equipped with a high-powered emissions system. The Transit Connect is powered by a 2.5L DOHC four-cylinder and a 1.6L EcoBoost engine.