Ford Dealership in Grapevine Reviews the 2015 C-Max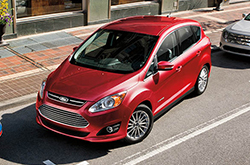 Two of Ford's very first hybrid models to debut in North America, the Ford C-Max Hybrid & Energi, are back again for 2015 offering buyers incredible performance, innovative technologies and versatility. For the new year, each model mirrors their 2014 counterpart, providing the same outstanding qualities and components that have kept buyers loyal to the C-Max lineup. The only change that can be found on the new 2015 Ford C-Max Hybrid & Energi models is the addition of two exterior paint colors. To find out which ones made the cut, read our 2015 Ford C-Max Hybrid & Energi review below for exclusive details.
Coming into 2015, the Ford C-Max Hybrid & Energi models boast incredible versatility. Their roofs stretch 64 inches, providing passengers with plenty of headroom, and each car offers seating for up to five passengers. On top of this, both models also come with fold-flat second-row seating for extra room when transporting items - a great advantage for drivers who require additional space at times. Outside, the 2015 Ford C-Max Hybrid & Energi in Grapevine continue to provide versatility with their great selection of exterior paint colors. Two new options: Tectonic Metallic and Magnetic Metallic, join their lineups, rounding out their eight-color collection and appealing to new buyers across the market.
In order to provide exceptional performance that matches their first-class features, each C-Max Hybrid & Energi comes outfitted with an electric motor and gasoline that work together to produce top-notch power. The 2.0L Atkinson-cycle four-cylinder gasoline engine produces close to 200 horsepower to back the models, while the electric motor utilizes lithium-ion battery packs to deliver power. Each variant can work individually or simultaneously on the 2015 C-Max Hybrid & Energi in Grapevine, providing top-of-the-line performance that rivals the competition.
To acquire more info about each of these standout models, continue reading our 2015 C-Max Hybrid & Energi review for additional facts.