Grapevine Ford Previews the New Fiesta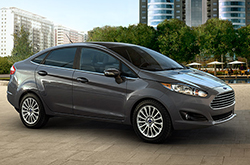 The highly capable 2015 Ford Fiesta has been refreshed this model year and now offers buyers an ample collection of new features that aim to enhance the small car's appearance. From a fresh exterior color to new wheels, the Ford Fiesta offers everything you need and more to give your model a premium look. Additionally, the small car comes with two exceptional engines that provide first-class power while also delivering great fuel economy. You can learn more about these top-notch engines in our 2015 Ford Fiesta review below along with other information on the car's standout features.
For the 2015 model year, all Ford Fiesta models come with a revised fabric seat trim. The modification is the only standard change on the small car this year, improving the interior aesthetic and enhancing comfortability. Outside of this standard upgrade, the 2015 Ford Fiesta in Grapevine comes with an array of available features that boost its appearance. A lower door stripe graphic package is being offered on S, SE and Titanium trims, while 16-inch all-season tires on eight-spoke alloy wheels are being offered on the SE/SE appearance package. In addition to the new options, a fresh exterior color: Magnetic Metallic, has also joined the paint palette and is available across the Fiesta lineup, including the 2015 Ford Fiesta ST.
Two engines are offered on the Ford Fiesta for 2015: a 1.6L four-cylinder and an EcoBoost 1.0L turbocharged three-cylinder. The four-cylinder provides a substantial 120 horsepower and 112 lb.-ft. of torque, but it is no match for the EcoBoost 1.0L turbocharged engine, which delivers 123 horsepower and 125 lb.-ft. of torque. The optional engine is also able to push the 2015 Ford Fiesta in Grapevine from zero to 60 mph in 8.9 seconds - a top time in its class. If you're interested in more power, test out the Ford Fiesta ST, which sports a turbocharged 1.6L four-cylinder that outputs 197 horsepower and 202 lb.-ft. of torque. It's by far the quickest model in its class and it also produces excellent fuel economy, benefiting drivers.
Want to find out more details about the Fiesta's powertrains? Keep reading our 2015 Ford Fiesta review for additional information.�