Review the 2015 Transit from Ford Dealer in Fort Worth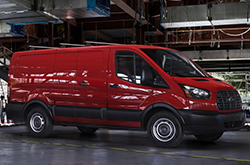 Ford's commercial van lineup has seen one significant improvement this year with the addition of the 2015 Ford Transit. Available with three body lengths, three roof heights, two wheelbases and multiple body styles, the all-new model is the perfect choice for professionals who require a versatile full-size van. With a 3.5L EcoBoost engine, the van also delivers 400 lb.-ft. of torque, providing just the right amount of power to take care of all your hauling needs. The Transit offers 487.3 cubic feet of cargo space as well - perfect for transporting large items. If you'd like to learn more about the brand-new van, check out our 2015 Ford Transit review for information.
Smaller than the full-size Transit, the 2015 Transit Connect in Grapevine is a great option for tradesmen who want a van for all of their work needs that also has a low cost of operation. It comes in two wheel bases: XL and XLT, and offers a 1,600-pound payload along with a 2,000-pound towing capacity. Two fuel efficient engines: a 2.5L four-cylinder and a 1.6L EcoBoost four-cylinder, can also be outfitted on the model. Each one comes paired with a six-speed automatic transmission and produces excellent fuel economy, saving buyers a substantial amount of money at the gas station.
In addition the Transit Connect, the Transit Connect Wagon is available for those who do not require excessive cargo space and towing capabilities. It comes in a 104.8-inch wheelbase version and a 120.6-inch wheelbase version. Inside, the 2015 Ford Transit Connect Wagon in Grapevine offers 100 cubic feet of cargo space, which is great for transporting small equipment. The wagon can also be outfitted with either a 2.5L Duratec or a 1.6L EcoBoost engine, which each provide fantastic performance buyers will be satisfied with.
Are you interested in learning more about the vans? Keep reading our 2015 Ford Transit review for details.�