2016 Mustang Research and Review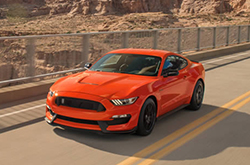 Last year, Ford was successful in giving a modern twist to its most legendary sports car. Mustang returned to the world with, gasp, a turbocharged four-cylinder engine. Many were surprised, but with today's demands for greater fuel economy, it was really not a shocking decision. And Mustang aficionados know it's not the first time a four-cylinder has been issued for the lineup. How does the new powerplant fair? Most 2016 Ford Mustang reviews continue to agree with those from last year: This engine is no weakling, delivering a strong performance with 310 horsepower, while achieving an impressive EPA-estimated 32 mpg highway at the same time (automatic transmission). Still, the acclaimed base V6 remains in place and there's a superb V8 on the GT, if you desire the utmost power.
Other changes from last year that continue to positively benefit Dallas-area shoppers include: increased passenger room, an upgraded interior with higher-grade materials, and a new independent rear suspension, which offers a significant improvement in handling, as well as smoother driving dynamics.
So what's new for those hoping to pick up a 2016 Ford Mustang in Grapevine? The biggest update this year is the lineup's introduction of the SYNC 3 infotainment system. It replaces MyFord Touch and offers several enhancements over its predecessor, such as improved voice recognition, a simplified menu that's easier to peruse, and the ability to pinch and swipe the screen like you would with your smartphone.
Also this year, those who purchase a 2016 Ford Mustang in the Dallas area can now get the GT Performance package on both convertibles and coupes, plus a brand-new California package debuts with 19-inch black alloy wheels, special trim on the interior and exterior, and a bigger rear spoiler. Select trims are also newly optional with a black-painted roof and GT models show off added turn signals on the hood vents, something fans of the lineup have been yearning for. In addition, Mustang EcoBoost trims can be had with a new Pony package, which includes an upgraded front fascia, floor mats with pony emblems, a sporty side stripe and 19-inch wheels. What's more, a new Mustang Shelby GT350/350R makes its debut this year!
Our 2016 Ford Mustang review continues below. After reading please stop by Grapevine Ford to get your hands on one of the country's most iconic muscle cars!