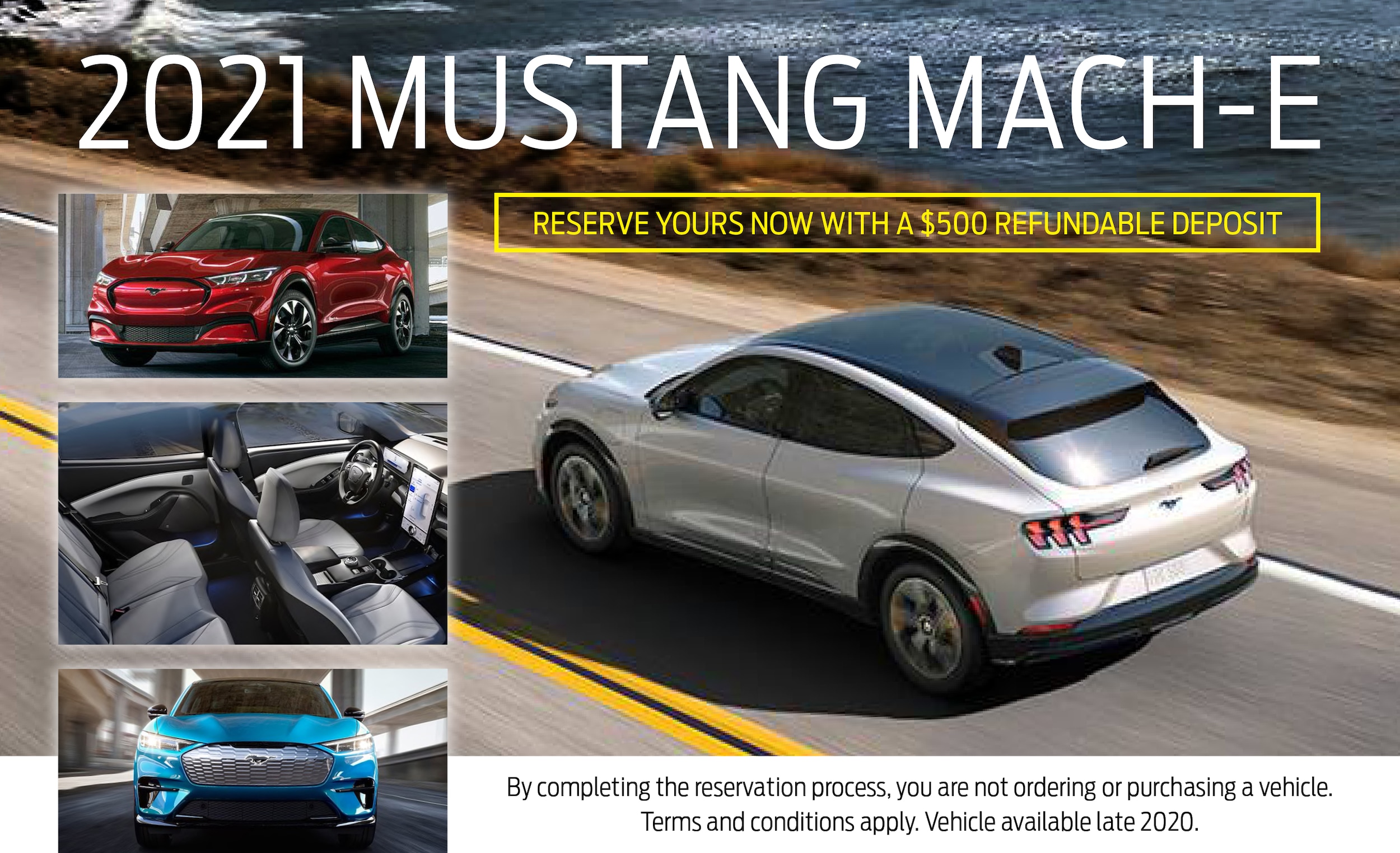 Meet the All-New 2021 Ford Mustang Mach-E!
Kicking off a new generation, the Ford Mustang rolls out in 2021 with a new addition to the ever-popular Mustang family. Starting this year, you can get the classic Ford Mustang in a contemporary all-electric SUV version. The newest member of the Ford Mustang family, the Mach-E, delivers a fine combination of freedom, style, and power. There are several special editions of the Mach-E available, too.
Mustang Mach-E Highlights
Inside and out, the 2021 Ford Mustang Mach-E is full of surprises. One major bonus of the Mach-E is its impressive power capabilities. The Mach-E can accelerate from 0-60 in under four seconds, making it a comparatively fast crossover SUV among competitors in its class. With the electric engine, the Mustang can produce an impressive 342 kW (459 HP) and 830 Nm (612 LB-FT) of torque. This remarkable power is matched with multiple driving modes to give you a precise driving experience. The three modes, called Whisper, Engage, and Unbridled, offer fine-tuned and exciting driving dynamics. Some highlights of the user experience include sportier steering controls and an all-wheel drive system specially designed for the electric motor called eAWD. This advanced all-wheel drive system applies torque independently to the front and rear axles. Ultimately, this gives the Mach-E impressive acceleration capabilities and improves its handling compared to vehicles with rear-wheel drive.
While there's much to enjoy under the hood, the interior of the 2021 Ford Mustang Mach-E is equally dazzling. The Mustang has large and comfortable seats that easily accommodate five adults. There is plenty of storage capacity and a center armrest that flips upward, offering an easy and convenient storage solution for your bags and other belongings. The Mach-E also comes with a premier Bang & Olufsen sound system that is seamlessly integrated into the dashboard for a contemporary appearance and easy access. Some of the features available include a fixed-glass panoramic sunroof that keeps the cabin cool in the summer but provides insulation in the winter.
Available Models
The Mach-E is available in a regular edition and a special edition GT. The GT has several unique qualities, including a carbonized gray grille on the front end, a MagneRide suspension system for performance, and magnetic dual-motor all-wheel drive for a standout powertrain.
To learn more about the 2021 Ford Mustang Mach-E or to reserve yours today, don't hesitate to contact our dealership.